Art Revolution Taipei 2017 is about to launch on April 14. To discover the aspiration with which it all started by starting with the first piece of work along with X-Power Gallery's represented artists.
VIP Preview (with VIP Card): 2017/04/13 19:00pm~22:00pm
Public Exhibition: 2017/04/14 11:00pm~20:00pm
     2017/04/15 12:00pm~20:00pm
     2017/04/16 11:00am~19:00pm
     2017/04/17 12:00pm~20:00pm
Venue: Taipei World Trade Center (TWTC), Hall 3
www.arts.org.tw

To discover the aspiration with which it all started with 360 artists from 63 countries.
Art Revolution Taipei 2017 is about to launch on April 14, for you to discover the aspiration with which it all started by starting with artists'first piece of work, and to experience a wonderful journey of arts. along with artists. From 360 artists arcoss 63 countries, this exhibition presents 3,000 pieces of works in affluent art forms and diversified media, showcasing various facets of the contemporary arts with local characteristics and cultural connotations respectively.
Lee Sun-Don
Challenging himself once again, Master Lee Sun-Don uses 316 stainless steel and titian alloys creating a sublime sitting Buddha in the image of Thousand Hands and Thousand Eyes Guanyin. In height of 56 meters, this statue is the anchoring design of the architecture located in Tamsui, New Taipei City. It will not only become a new landmark of northern Taiwan; it may even make a Guinness Record, becoming the world's first and foremost of its kind.
Lee Sun-Don + Ma Sing Ling
Inspired by their respectful teacher Master Lee Sun-Don, the art trio Ma Sing Ling address the Buddhist doctrines in their painting and develop the "Qi series," with which they illustrate how all existences of the cosmos are the manifestations of Qi and are capable of transformation. From the transformability, even between the concrete and the abstract, they realize how the truly great form is beyond form and not a form is definite in itself.
| | |
| --- | --- |
| Qi/Leaves Falling, Love Arising | Qi/Cosmic Energy |
Lee Sun-Don+Luna Chen
For the first time, Master Lee Sun-Don demonstrates his caricature style of painting, the "Magic Fortune Lady," a series developed in collaboration with Luna Chen. The eyes of the Magic Fortune Lady, a figure created by Master Lee, shine with wisdom, and the night owl, illustrated by Luna, stays with Magic Fortune Lady as her forever guardian. Equipped with the magic to bring fortune, they together lead us to the treasures of bliss and happiness.
| | |
| --- | --- |
| Fortune Girl/Hello | Fortune Girl/I am coming |
Lee Sun-Don +Ma Sing Ling+Luna Chen
With a collaborative spirit, the art trio Ma Sing Ling work with Master Lee Sun-Don and Luna Chen to present the series, "The Floral Scent Dances into the World." Drawing inspiration from Master Lee's "Wonderful Clouds" and Ma Sing Ling's early creation of the "Spring Breeze," they together present this new series to illustrate liveliness and transcendence in new light and in different aura.
| | |
| --- | --- |
| The Floral Scent Dances into the World/Heaven Mountain atop the Clouds | The Floral Scent Dances into the World/Peaks upon Peaks/td> |
Ma Sing Ling
Ma Sing Ling is an art trio comprising three young talented artists from Taiwan: MANIHOO, Singway, and Ling Ling. Although recently rising, their artworks have won several international recognitions: the Virtual Best (International Category) of Bold Expressions in the 57th Annual International Open Juried Art Exhibition, the 2nd place prize in American Juried Art Salon 2013, and the 159th Autumn Exhibition of Royal West of England Academy of UK.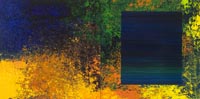 The Oneness/With Heaven and Earth in Min
Ma Sing Ling + Luna Chen
To be innovative and constantly challenge themselves, the art trio Ma Sing Ling collaborate with Luna Chen, also represented by the X-Power Gallery, to develop the series of "Magnificent Wonder World." Like a star in the night sky, each sparkling dot in the painting represents a life that illuminates in the spacious cosmos in its own way.
| | | |
| --- | --- | --- |
| Magnificence | Magnificent Wonder World/Great Wonder Is Arising | Magnificent Wonder World/The Heart of Heaven and Earth |
Ma Sing Ling + Luna Chen
The art trio Ma Sing Ling for the first time work with Luna Chen, and together, they present the series of "Diamond Way." The wooden clogs in this series represent the footsteps of bodhisattvas, especially those of Acala Bodhisattva and Mahākāla Bodhisattva. Walking on the path to liberation, one keeps going on and never retreats—and this is the diamond essence of a spiritual practitioner.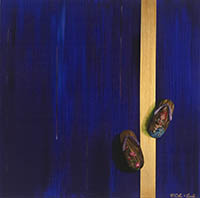 Diamond Way/The Fearless
Singway
With artwork selected into 2010 Salon d'Automne of France, Singway never ceases to challenge herself in creating works with diverse styles while maintaining her unique elegance and charm. She expects herself to always bring something new and refreshing to the viewers every year.
| | |
| --- | --- |
| Patron Saint 2 | The Eyes Sparkling with Wisdom |
Yachi Lai
What a joy when you push opening the window and see the view of art master Chang Dai-Chien's splash-ink landscape painting. Needless to say, just sitting by the window, you feel relaxed and at ease – window is truly the charm of the place we called "home." If there comes a pet's company, it is even more soothing, adding a comforting benefit to the vicissitudes of life.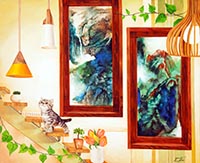 The Window with a View Unbound 10
GOGO YU
Creation is no less than documentation of everyday life. Even though I set myself free of any thought while creating artwork, I examine myself with all my heart. I let my rebelling ego unleashed; I honestly face the fickleness of my personality. Reconstructing the fragments of memories, deconstructing the taken-for-granted, bidding farewell to my chaotic past, I move towards the light.
Flower‧No.13




Flower‧No.17



Luna Chen
Artist's new series "Bodhisattva with Sparkling Zen," she illustrates Bodhisattvas on the clogs—symbolizing their footprints of practicing compassionate vows.
| | | | |
| --- | --- | --- | --- |
| Bodhisattva with Sparkling Zen/Behold the Water and Listen | Bodhisattva with Sparkling Zen/Win of Wonderful Auspicious | Bodhisattva with Sparkling Zen/Treasure of Earth | Bodhisattva with Sparkling Zen/The Merit Elephant With The Victory King |
Small Sa
Small Sa's work features a mysterious but soothing caricature style. Characterized with arc lines, geometric shapes, color blocks, and especially the "big hand" as her icon of care and love, her painting flows with musical rhythm and youthful momentum. For 2017, she presents the "Buddyseries," inspired by the Buddhist idea of "dharma guardian"; she believes that all beings are sentient and spiritual, and they are guarding us all the time.
| | |
| --- | --- |
| Buddy/The Goddess of Muse | Buddy/The Fairy and Unicorns |
Ui Ui Liu
Ui Ui developed the series of "Tube" in 2016. Tubes as utensils for doing experiments in the laboratory are cold and icy, and distant from daily life. Ui Ui, however, added color to it to give the tubes some warm feel. This year, she adds the element of plant, with which she leads us to marvel at the genes of life and their fruition. Tubes are no longer alienated from us, but friends of humanity.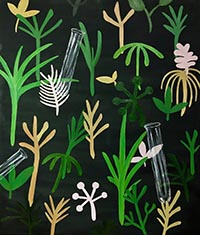 Amid the Grass